Resume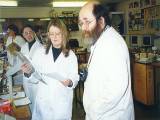 Address: 22 Westbourne Park Villas, London W2 5EA, ENGLAND
E-mail:
Some of the information that follows may be true...
Marcus was born in 1953, and is an educational laboratory technician, a job best described as working at the blunt edge of science - the picture is a rare shot of him working (Marcus is on the right) during trials of a new chemistry book. He is currently Senior Technician in a large London secondary school; he now leads a team of four technicians in ten laboratories on two sites. He is a former school-governor and the longest-serving member of staff at his school.

He has been a blood donor since the 1970s with 90+ donations as of 2010; he mentions this only to encourage others to volunteer, and not because it makes him feel really noble and smug...
He has been reading science fiction since he was about 8, and still wastes too much money on the stuff. He has been going to SF conventions and meetings since about 1971, and gaming since approximately 1976. He has too much sense to get involved in running SF conventions (much); he ran the games room at two Eastercons, Beccon and Contrivance, but has no great desire to repeat the experience. He often participates in panels and games at conventions, and regularly runs RPGs at conventions.
His hobbies include reading (especially fantasy and science fiction), writing, SF fandom, gaming, computing, herpetology, and trying to find time to sleep. He doesn't usually talk about himself in the third person.
Publications:
For Golden Heroes
Queen Victoria And The Holy Grail (Games Workshop)
For Call of Cthulhu
Trail Of The Loathesome Slime (Games Workshop)
Nightmare In Norway (Games Workshop)
Bad Moon Rising (in The Great Old Ones, Chaosium: the book as a whole won the 1989 Origins Award for best role-playing adventure)
Honeymoon In Hell (in Blood Brothers, Chaosium)
Fear Of Flying (in Fearful Passages, Chaosium)
El Tigre, y la Piramede de Destruccion (in Blood Brothers 2, Chaosium)
For The Judge Dredd Role Playing Game
Judgement Day (Games Workshop)
High Justice (Games Workshop: accepted but never published)
For Space 1889
Canal Priests Of Mars (Game Designers Workshop: published in a heavily abridged form not approved by the author). Now available as a free download from e23 and Drivethru RPG; see Heliograph Inc's site for details.
The Complete Canal Priests Of Mars (Heliograph Inc, available as a printed book or PDF)
Into the Detective's Casebook (card game, The Magellanica Co.)
Software
World Generator (Shareware, later freeware; user registrations no longer accepted)

Forgotten Futures:
A series of complete text-based RPGs based on scientific romances from the turn of the century:
Forgotten Futures I: The A.B.C. Files
Forgotten Futures II: The Log Of The Astronef
Forgotten Futures III: George E. Challenger's Mysterious World
Forgotten Futures IV: The Carnacki Cylinders
Forgotten Futures V: Goodbye Piccadilly
Forgotten Futures VI: Victorian Villainy
Forgotten Futures VII: Tsar Wars
Forgotten Futures VIII: Fables and Frolics
Forgotten Futures IX: It's My Own Invention
Forgotten Futures X: The Tooth and Claw Role Playing Game
Forgotten Futures XI: Planets of Peril
The Forgotten Futures Compendium
Forgotten Futures Clip-Art Collection (now part of the Forgotten Futures CD-ROM)
(ed) The Astronef Collection (Now included in Forgotten Futures II)
(ed) The Forgotten Futures Library (Now included on Forgotten Futures CD-ROM)
The Forgotten Futures CD-ROM (now version 7.0)

The first printed version of Forgotten Futures was published as a free booklet with Future Publishing's Arcane magazine in 1997. This booklet is now very rare. It consists of the summary rules and introductory adventure, both of which are on line and on the Forgotten Futures CD-ROM.

From Heliograph Inc. for Forgotten Futures
Forgotten Futures (expanded rules and introductory adventure)
(ed.) Stories of Other Worlds and A Honeymoon In Space by George Griffith
The Log of the Astronef - Space travel worldbook
Update February 2002 - Masters of the Graviton the space travel adventures book, long on hold, has now been cancelled, and there are currently no plans for continued print publication of Forgotten Futures once existing stocks sell out.
Diana, Warrior Princess
How will the world of the future regard the present day? Here's one answer...
illustrated by Aaron Williams, 116 pp, originally from Heliograph Inc., now available as a PDF from Drivethru RPG and Steve Jackson Games' e23 operation.
Also available in PDF, Elvis, The Legendary Tours, the obligatory spin-off.
The Original Flatland Role Playing Games
Published in aid of Doctors Without Borders, this is a complete RPG based on Edwin Abbott's book Flatland, and includes everything needed to play, including printable characters and a wargame by Matthew Hartley. Available from e23 and Drivethru RPG.

Magazine credits include articles, adventures, and games in numerous issues of White Dwarf, Challenge, Different Worlds, Dagon, Concepts, Imagine, The Dragon, Dungeon Magazine, 2000 AD (board game, no author credited), Fantasy Chronicles, Red Giant, Space Gamer, Games Trade Monthly, Games Review Monthly, New Scientist (not game-related), Strategy Plus, Role Player Independent, The Last Province, Journeys, Valkyrie, Ragnarok, Interactive Fantasy, Arcane, Odyssey, Pyramid On-Line, several computer magazines, and various other magazines and fanzines.

Short fiction has appeared in shared world collections edited by the Midnight Rose collective and published by Roc Books; Temps, Euro Temps, and The Weerde 2. These books have only appeared in the UK at the time of writing.

Author of the Fantasy Games article in The Encyclopaedia of Fantasy and co-author of the equivalent article in The Encyclopaedia of Science Fiction.
Last updated: December 2010
Special thanks to Tim Illingworth for his help in preparing these pages, and to the users of uk.games.roleplay for their advice and comments.